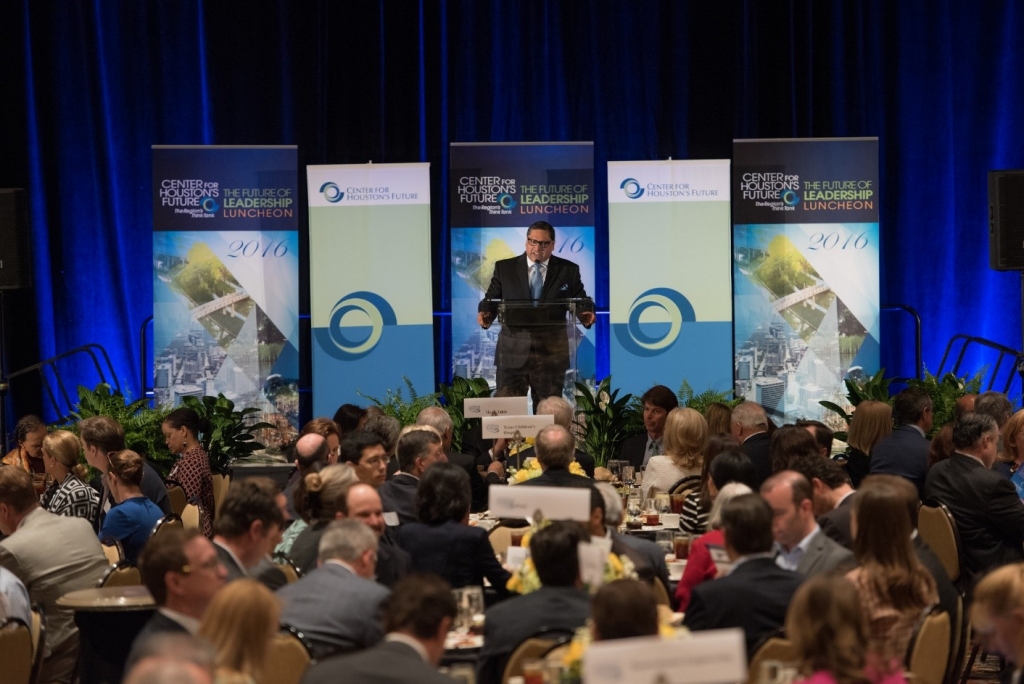 This is the first of a two-year term in which I'll serve as the Chairman of the Board for the Center for Houston's Future (CHF), a think tank of diverse business and civic leaders working together to solve problems in our region. Together, we face challenges in healthcare, education, arts and culture, public safety, natural and built environment, economy, diversity, and civic vitality.
On March 23, I had the honor of addressing the 700 guests at The Future of Leadership Luncheon 2016 at the Hilton Americas in downtown Houston. This year's luncheon chairs, Antje and Harry Gee Jr. of the CHF, put on a wonderful event with a powerful keynote speaker, awards to distinguished community leaders, and a chance to connect and reconnect with people whose talents, knowledge, and leadership are integral to future of our region.
Keynote on the justice system
The keynote speaker was Laura Arnold, an attorney, philanthropist and co-chair of the Laura and John Arnold Foundation (LJAF). The mission of LJAF is to address our nation's most pressing and persistent challenges using evidence-based, multi-disciplinary approaches. The Foundation searches for the root causes of problems and then puts workable solutions into place that can have sustainable, national impact.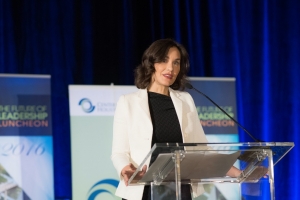 Laura's keynote address focused on the criminal justice system. She challenged business leaders and philanthropists to question their assumptions about how the criminal justice system functions. She also called for solutions to ensure equitable treatment of pre-trial defendants regardless of ethnicity or income. This message is part of the LJAF's Criminal Justice Initiative.
If you didn't attend this year's luncheon, or if you'd like to revisit Laura Arnold's message, the Houston Chronicle has published an excerpt of the keynote address.
Awards spotlight
Every year, the Center for Houston's Future awards the Eugene H. Vaughan Civic Leadership Award, named for the founder of CHF who was also in attendance at the luncheon. The award is given to an individual for leadership and contributions to the Houston region in the areas of human capital development and diversity, quality of place, and 21st century economies.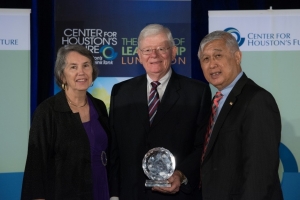 This year, we honored Kelly Frels, a retired Partner and now Senior Counsel of Bracewell LLP. For over 40 years, Kelly has been an attorney for educational institutions and government organizations. He currently focuses on providing legal counsel in civil rights issues including those involving governance, employment and desegregation. Kelly is also one of my predecessors as the former Board Chair of the CHF, having served from 2010-2012. We honored him for his perseverance in challenging work, for his leadership, and for promoting the importance of planning for the future of our community.
We also had the opportunity to thank Chevron as the Luncheon's presenting sponsor for eight years.
Cybersecurity in all things
The vision of the CHF is to ensure that our region is a top global community in which to work and live. Part of realizing this vision is conducting research and collecting data on where our region stands and can improve in critical areas. These Community Indicators are tracked, compiled, and used as points of comparison to other regions. That's how we can make plans to create a healthy balance in the social, environmental, and economic factors that will sustain Houston into the future.
An important highlight of the luncheon was presenting the latest Community Indicator research in the areas of Diversity and Philanthropy, as we expand our work on Civic Vitality.
Any successful initiative that will improve life in the Houston area must be mindful of the role cybersecurity will play. This applies to education, energy, healthcare, environment, government, and the economy as a whole – all activities that affect the safety, security, and privacy in conducting our daily lives and businesses in a digitally connected cyber world.
Your voice matters in Houston's future
I'd like to encourage everyone reading this to do is to go to the CHF website to check out upcoming events and ways for you to become part of the conversation about Houston's future.
On May 11, the Center for Houston's Future, in collaboration with Travelers Institute, the Federal Reserve Bank of Dallas Houston Branch, and BancorpSouth/GEM Insurance Services, Inc., will hold a luncheon symposium: Cyber: Prepare, Prevent, Mitigate, Restore℠. Jason Ritchie, the assistant vice president of bank administration of the Fed, will deliver the keynote entitled, "Securing Banking and Payment Systems: A View from the Federal Reserve." I will give the opening remarks, and Blue Lance's own CTO Peter Thomas will be on the expert panel.
We'd love to see you there! Register now.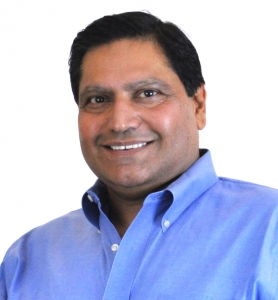 Umesh Verma is the award-winning CEO and driving force behind Blue Lance, the global provider of cybersecurity governance solutions. For more than 25 years, Blue Lance's automated software solutions have been protecting digitally managed corporate assets by assessing, remediating, and monitoring security of information systems. Call Blue Lance at 1-800-856-2586 for your 25-point credentials assessment, or get social with us on LinkedIn, Facebook, or Twitter.