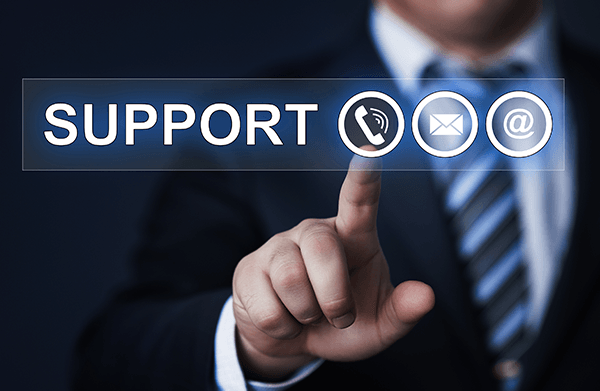 Blue Lance's Outstanding Support
LT Auditor+ is supported by professional, knowledgeable staff who provide quick, clear, and decisive solutions to customer service issues. The staff is in place to provide assistance for issues not covered in the product manuals or on-line help screens.
Contact Support: 800-856-2583 (Option 2)
Contact Sales: 800-856-2583 (Option 1)
NO MACHINES – when you call Blue Lance, get live one on one support with our engineers directly.
Blue Lance's customer service is a team effort. Everyone from support, development, sales, operations, and management get involved.
Our goal is to not only offer excellent support but also find solutions for your problem.
Blue Lance strives to be available at every beck and call. We aim to give the best possible customer service experience.
Updates and Patches are key components in keeping systems running at peak performance. These updates fix issues and also include new features, capabilities, and more efficient processes. Blue Lance has made it simple and easy to keep up to date, allowing you to stay focused on running your business.
This update resolves issues when using the LT Auditor+ Reporting Console to connect to the LT Auditor+ Archive database after applying the AU1309 Authorized Users Update.
Makes it quicker and easier to grant permissions to access LT Auditor+
Allows Active Directory groups to be added as authorized entities
Members inherit permissions configured for their group
Supports nested groups
Added functionality to scan for computers in the directory and provide reports on when these computers were last accessed.
Provided the capability to exclude 'Builtin' security principals to reduce the volume unnecessary data collected as well reduce the time to perform Assessment Scans.
Resolved issues when scanning for files and folder names with special characters
Resolved issues with scheduling weekly scans
LT Auditor+ Management scripts perform the following functions:
Scans Active Directory to discover Windows servers and workstations not audited with LT Auditor+ and proceeds to install LT Auditor+ agent software on these machines.
Performs maintenance and updates on LT Auditor+ Windows agent machines.
Receive important status messages about the LT Auditor+ database.
These scripts need to be run and scheduled using the LT Auditor+ Windows Assessment Console.
Instructions on how to move LT Auditor+ database to another SQL Server.
This patch resolves problems with audit data not being correctly deleted from the LT Auditor+ Archive database. This issue impacts customers running all versions of LT Auditor+ on Microsoft SQL Server databases.
This build supports auditing on OES 2015 NSS file systems and includes support for auditing CIFS access by Active Directory users.
Blue Lance offers hands-on training options that will accelerate your learning, understanding and full use of our solutions. We offer one-on-one or group training either remotely or onsite. In addition, we offer customized training programs specifically tailored to your organization. Our goal is to increase productivity and operational efficiency of our customers by empowering them with the knowledge and skill needed to fully utilize our solutions in their unique environments.
"Blue Lance gives the best support of any vendor …"
I've worked with Blue Lance for umpteen years and I haven't seen anything better …