How to Prevent Cyber Crime during a Natural Disaster
August 29, 2017 (Houston) – Hurricane Harvey just crippled much of the Gulf coast region in Texas – and the damage isn't over yet. With over 30,000 people displaced to temporary shelters and thousands of calls flooding 911 dispatchers, all eyes are on rescue efforts.
As a business leader, we know that you're not just worried about your own physical safety. You're worried about your livelihood. You have corporate assets to keep dry. You have employees to keep safe. By now you've probably evacuated your people and secured your building as well as possible to keep out flood waters.
But there's one thing we want to make sure you don't overlook in your protective efforts: Even now, remember the importance of cyber security.
Natural disasters are magnets for cyber criminals. Hackers prey on vulnerable people during dark days, seeking opportunities for cyber-attacks. They send out email scams, push malicious websites to the top of search results, and break into business data while people work remotely.
As uncertain as these times are for you and your employees, it's important that you don't lose sight of your digital safety. Here are a few things you can do to actively protect your business before, during, and after a natural disaster.
The first thing you should do is assess your current situation.
Without a doubt, the priority is to ensure the physical safety of your team. When they're able and ready to work from home, then your next step is to assess their methods of connection to your corporate data. A credible cyber firm can perform a thorough assessment. In the meantime, here's a quick checklist:
Are they using a VPN to access business intelligence?
What type of equipment are they using, including routers, access points, or switches?
Are they using the most secure passwords that have been recently updated?
Does your team know to be cautious about phishing and malicious links when opening up unsolicited emails?
Next, you need to remedy any weak points in your system.
Quickly patch any gaps in your cyber system with the help of a cyber security company. For example, if your employees are logging into your applications using generic credentials and default passwords, it's critical to update login information immediately. We've talked about the dangers of default passwords, and they pose an even greater risk in these vulnerable times.
Finally, you need to continuously monitor your cyber environment.
Even after the water begins to recede, you must keep a pulse on what's happening with your cyber security in the aftermath of the disaster. We understand that you may have a lot of cleanup to do, and it's tempting to push cyber security to the side. It's easy to focus on rebuilding damages to your business rather than preventing an attack. But know this: Hackers capitalize on your distraction.
Don't lose sight of your sites – both your physical and digital entry points. Assess, remediate and monitor your cyber security as you prepare for, rebuild, and recover from a disaster.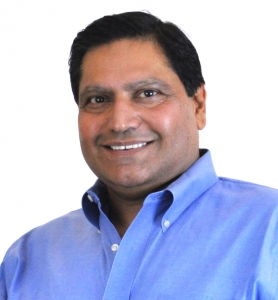 Umesh Verma is the award-winning CEO and driving force behind Blue Lance, the global provider of cybersecurity governance solutions. For more than 25 years, Blue Lance's automated software solutions have been protecting digitally managed corporate assets by assessing, remediating, and monitoring security of information systems. Call Blue Lance at 1-800-856-2586 for your 25-point Access Rights Assessment, or get social with us on LinkedIn, Facebook, or Twitter.